Paysafecard Banking Method for Online Casinos
Learn about using Paysafecard for making deposits at Australian online casinos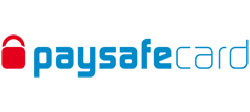 Paysafecard is a popular online casino banking option for Australian players and it allows you to get money in to your favourite online casino account in a matter of seconds. This perfectly secure Australian online payment options is a deposit method and it is ideal for players who prefer not to use their personal banking details or credit cards online. This section will take a look at where you can purchase a paysafecard and how to use this reliable method.
Paysafecard is a prepaid payment method which can be purchased at hundreds of thousands of land based retailers such as garages, kiosks, news agents, post offices and supermarkets and it is commonly available in multiple denominations. You will receive a 16-digit number on a receipt and this must be kept safe so that you can use at the cashier of the casino that you are trying to top up. Some fees may apply, but using this method is essentially free.
Facts about using Paysafecard at online casinos
Use paysafecard to make deposits at online casinos.
Some fees may occasionally apply, but essentially using paysafecard is free.
Paysafecard prepaid cards can usually be purchased in multiple denominations from AU$10.00 to AU$100.00.
Purchase paysafecard at hundreds of thousands of land based retailers.
Depositing with paysafecard is straightforward and easy, simply enter your unique 16-digit paysafecard PIN at the casino.
Instant deposits with paysafecard, ultimate levels of security and completely anonymous.
Exclusive rewards with my PLUS – the loyalty programme from paysafecard
Paysafecard also offer an account which will store all your PINS to use online
Paysafecard app also now available and completely free. Your money is now just a username and password away
More info about Paysafecard
One of the questions that many players have asked before using paysafecard is "Are the any fees or charges applied to paysafecard transactions?" Using paysafecard and paying with this perfectly secure and reliable online payment solution is essentially free. However, some of the following fees may apply:
A conversion fee may be applied to your transaction which involves converting your money into a foreign currency. You can find out more about these free by checking out the paysafecard currency converter. To use the converter, simply enter the amount and then click on the appropriate currency.
There is also a standard fee which applies to each paysafecard refund and at this time of writing this is AU$6.00, but this may change so for the latest information about this fee check number 15 of the paysafecard general terms and conditions. There is also a transaction fee. This is a customer fee that may or may not be charged by individual pre-defined retailers and this must be declared.
Finally there is a maintenance fee. If you don't use your 'my paysafecard' to complete a transaction within a 12 month period you are likely to be charged around AU$2.00. For details about the exact cost of this fee also read the paysafecard terms and conditions. Now that the fees are out of the way, let's take a look at how you can use this method to deposit into your online casino account.
Australians can purchase a AU$10, AU$25, AU$50, AU$75 or AU$100 valued paysafecard and there is no limit to the number of paysafecards that you can purchase. If you have access to a PayPoint machine, larger denominations of AU$125, AU$150 or AU$175 can also now be purchased. When you purchase a paysafecard you will be given a receipt/ticket which contains a unique 16-digit number.
You then need to carefully enter this same number into the required field in the cashier section at your favourite online casino. As soon as you have entered the correct amount and PIN and then confirmed that this information is correct, the deposit should then be processed in just a matter of seconds.
If you prefer not to use your credit card or debit card at online casinos and if you would rather not sign up to an e-Wallet, the paysafecard method is one of the best alternatives. This reliable online casino deposit option for Australian players is really easy to use and it is now widely accepted at the vast majority of today's best Australian online casinos.
The only downside to paysafecard is that it is a deposit method only and it can't be used to withdraw your winnings. In other words, you would have to find some other reliable method when it comes time to withdrawing your winnings. You can always view how much you have left on your paysafecards by visiting the main paysafecard website. Just enter the PIN into the required field to see how much you have left on your paysafecard. One of the best things about using paysafecard is that it's completely anonymous.